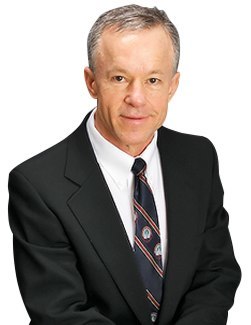 James B. Grimes, MD
Orthopaedic Surgeon
As a board-certified and fellowship-trained joint replacement and sports medicine specialist, James B. Grimes, MD, has pioneered the development of minimally invasive surgical techniques for the treatment of hip, knee and Shoulder and wrist surgery.
Dr. Grimes was among the first surgeons in California to perform the direct anterior minimally invasive surgical approach for hip replacement, a procedure that avoids cutting any muscles to access the Hip. He has over 12 years of experience performing this technique. Selected patients have been able to go home less than 24 hours after having this procedure.
Dr. Grimes has utilized the subvastus (from the side) approach for partial and total knee replacements for over 20 years. This minimally invasive technique also does not require cutting muscles to enter the joint and preserves better muscle control.
Dr. Grimes is the first surgeon in California to perform single portal arthroscopy of the knee (SPA). Dr. Grimes is the only surgeon between Fresno and Los Angeles who performs Hip arthroscopy.
Dr. Grimes is currently on design teams for the development of the next generation of hip replacement implants and improved endoscopic carpal tunnel release instruments. He has devoted his career to improving the quality of life for patients suffering from hip, knee, shoulder, Elbow and wrist problems. His notable research and academic pursuits have contributed to the field of orthopaedics and keep his clinical practice current with cutting-edge surgical and non-surgical treatments.
A native of Kansas City, Missouri, Dr. Grimes grew up in Kansas. He graduated from the University of Kansas in 1975, and then attended Cornell University Medical College in New York City. While at Cornell, Dr. Grimes discovered his desire to enter the field of orthopaedics at the Hospital for Special Surgery. He went on to complete his orthopaedic residency at Washington University Medical Center in St. Louis, Missouri, completing this in 1984. He then completed a one-year Fellowship in Joint Replacement Surgery and Sports Medicine at DePaul Hospital in St. Louis.
Dr. Grimes is a diplomate of the American Board of Orthopaedic Surgery, a fellow of the American Academy of Orthopaedic Surgeons, and a member of the American Association of Hip and Knee Surgeons. Dr. Grimes specializes in the minimally invasive treatment of adult joint disorders.
Dr. Grimes is dedicated to getting men and women of all ages back to their game.
He is constantly in search of the newest and most effective treatments and surgical technology to provide his patients with the best outcomes and fastest recovery possible.
Education and Training
Medical School: Cornell, Hospital for Special Surgery
Residency/Fellowship: Washington University, DePaul