Success Stories
Anterior Hip Replacement
Total Hip Replacement
Dr. Grimes did a total hip replacement on me mid-October 2014. I couldn't ask for a better result. Surgery went well, recovery was quick, and he and his office staff are top notch. His assistant, Heidi,
is easily accessible via email to answer any questions that may come up, and the x-ray staff and especially the MRI tech, Jeff, are outstanding. Dr. Grimes is always patient and willing to answer any questions I have and I wouldn't hesitate to recommend him.
mjs
on Jan 12th, 2015
Dr. Grimes did a great job on my left hip replacement. He cares about what he does and give you his full attention before, during and after surgery is done. If I was to have the other hip done I would want him to do it.
Did a great job!
Eddie Rutherford
on Jun 1st, 2015
Dr. Grimes is the best, most caring Doctor I have ever had, and I have had 7 surgeries.
Richard N Clay
on May 10th, 2013
Hip Replacement and shoulder surgery
Doctor Grimes met all of my expectations in these surgeries from initial assessment through surgery and recovery. He elected to perform minimal invasive surgery for both of these operations, the recovery times were shortened and from the most recent hip replacement surgery, I was back playing golf within 6 months and now after 1 full year, I have no restrictions on my activities, play golf twice each week, and feel like a new man; very satisfying for an 82 year old. I would happily recommend Doctor Grimes for these orthopedic surgeries
William Atkinson
on Jul 13th, 2013
Dr. Grimes was awesome, total hip replacement was best thing I ever did.
Mar 1st, 2012
I am a 56-year old active woman who had a minimally invasive total hip replacement performed by Dr. James Grimes in August of 2010. I was scared to have this procedure done and also felt that I was so young to have to have this done. However, I had pain everyday and was unable to walk without pain or exercise. Now, I am so happy with my new hip, and continue to be very active without pain!
I felt my recovery was remarkable. I was released from the hospital in 3 days. On my first day home, I was able to climb my stairs to get to my bedroom. I was back in the gym in 3 weeks! I had researched and found that Dr. Grimes is the only doctor in Kern County that performs the minimally invasive total hip replacement surgery, going in through the front of the hip. I was so glad I did not have to find a doctor and go to Los Angeles to get this newer type of hip replacement done.
In my opinion, Dr. James Grimes is an excellent doctor and I feel so fortunate to have found him! He and his entire staff were highly professional at all times. His assistant, Heidi, was always available to take or return phone calls quickly. I cannot say enough good things about Dr. James Grimes and his staff!
Sheryl Latimer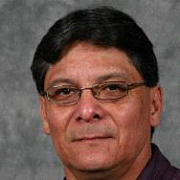 I recently had a total right hip replacement done on April 09, 2013 by Doctor James B. Grimes and I have not felt this good for many years. Dr. Grimes was so professional and caring during my treatment.
Dr. Grimes from day one was very helpful on explaining the procedures that would take place during my hip replacement. I was very worried about the surgery and have put the surgery off in prior years and suffered with leg and back pain for many years up to my recent hip replacement. Dr. Grimes explained the procedure and I felt reassured. I put my total trust into Dr. Grimes
When I checked into the Hospital At San Joaquin Hospital all the staff was very caring and helpful and all the nurses that knew Dr. Grimes all told me that he was a very well thought of and demanding Doctor when it came to the procedures on his patients.
Now, after the surgery, I have no leg pain and after five years of taking pain pills I'm off them and no back pain and I can walk without a limp and do all the things I did ten years ago. Now at fifty six years of age I'm loving life!
Dr. Grimes and all his staff I want to Say " Thank you All For Making My Life Better"
Jimmy Red-Hawk James
My experience with a hip replacement by Dr. Grimes was much better than two friends who also had hip replacement using a different method. The hospital stay was only one night–then back home. No physical therapy was required. I was up on my feet walking–first with a walker, then a cane in comparatively short time. Much quicker than my friends who had to undergo weeks of therapy. The reason, likely, was that Dr. grimes uses the anterior approach. I'm extremely satisfied with the results and quick recovery. The office staff and assistants were very helpful and friendly. A BIG 5 STAR (age 79)
Mack Whitney
Hip Arthroscopy
I was VERY impressed with Dr. Grimes in so many ways. He was caring, professional, knowledgeable, and thoroughly explained what was causing my pain. I am a perfectionist and I strongly sensed that Dr. Grimes is one too. That trait and his years of experience have made him the surgical genius that he is! Dr. Grimes performed hip arthroscopy on me a month ago. When it is time for another surgery, he is THE doctor for me!!!!
Surgical Genius with Hip Arthroscopy
Jul 7th, 2015
Hip Arthroscopy
It took longer to diagnose the exact cause of my hip pain than I would I would have liked. Once Dr. Grimes performed an MRI, it revealed that I had a torn labrum. He gave me a thorough understanding of the corrective procedure, a Hip Arthroscopy, and immediately started the scheduling process for surgery. It was an outpatient procedure and after about two months of recovery, I was able to return to all my normal activities, including playing golf, totally pain free. I am completely satisfied.
Arthur A. Castro
on May 31st, 2014
Hip Arthroscopy
Dr. Grimes is very professional and conscientious. He thoroughly explained my surgery procedure–arthroscopy of my right hip and also what to expect as far as healing time. I was up and walking and home the same day! I have no pain whatsoever; only a bit of soreness which he explained would happen until it is completely healed. He is one doctor who doesn't rush in and out of one's appointment. He lets the patient end the appointment–a rarity in many other cases. I have no hesitation in recommending Dr. Grimes.
Sonja Johnson
on Jan 1st, 2014
Rare Hip Diagnosis
Dr. Grimes is absolutely wonderful! A singleness of purpose, attention to detail, and a commitment to the patient are the cornerstone of his practice. As an older athlete who refused to give up on sports, I had grown discouraged with the sometimes Orwellian coldness of the popular orthopedic factories here in town. Nothing was getting done and the appointment times were atrocious. Finally a friend told me about Dr. Grimes. I called thinking that as a new patient I wouldn't get in for weeks or even longer. I called on a Friday and they said, "Yes, we can see you on Monday!" Unbelievable.
On Monday I explained to Dr. Grimes the pain in my knees and hip, and that I was tired of the pills, pointless visits to physical therapy, and all the other half-measures. He listened, he asked questions, and he performed several tests. He was like a bull terrier. He pinpointed the pain in my hip right away. I almost went through the roof when he found it. No one else had. He explained the problem and told me that I could go in for surgery the next week! I had waited three years at the orthopedic factory for someone to take action. I had thought that I would never play sports again. I almost cried a little in the office. Finally, here's someone who takes action. In three weeks Dr. Grimes had changed my life. I'm running, biking, and playing tennis again like a young kid. The pain in my knees and hip are gone. Thank you, thank you, and thank you! And by the way, the support personnel are wonderful too. Heidi, you're amazing. I don't know how you keep up with him.
Glen D. Ogden
Knee Joint Replacement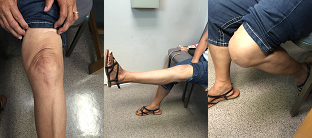 Happiness
I have been suffering from osteoarthritis on my left knee for the last 10 years until I decided to have it replace, I look for the right Dr. for many months until I found Dr. Grimes. I have my knee replaced on June 2014 and I'm happy to say the pain is gone, I'm back to work and my daily activities are back to normal. Thank you Dr. Grimes you are the best.

Irene
on Sep 3rd, 2014
amazing doctor
I have had both left and right knee replacements done by dr. grimes. Both surgeries were a success. He's my hero; i would recommend dr. grimes to anyone needing bone surgery.
Gail Watkins
on Jul 12th, 2014

Just got home after my second total knee replacement performed by Dr. Grimes.
I was amazed at the short recovery time after the first surgery. The second is even better as I have the perfectly repaired other knee to help me along.
I suffered for fifteen years with knee pain. Talked to many of the "factory offices", no one was really interested in helping me.
I was referred to Dr. Grimes, made a phone call, and had an appointment the next Monday. Dr. Grimes said "yes, I can help you, we will get you some pre-op physical therapy and then do surgery".
Had the surgery on a Tuesday afternoon and was home that Friday afternoon. Started post-op therapy the next Monday and haven't looked back.
One other thing, Dr. Grimes and his staff are great! Personable also. Appointment wait times are very reasonable for the medical profession.
I can't say enough about the whole operation.
Doug Wheeler
Knee Arthroscopy
Over the past three years, I have had, first knee surgery and then two years later shoulder surgery. I recovered in record time with outstanding results.
September 15, 2015
Dr. Grimes performed arthroscopic surgery on my right knee to repair a torn meniscus. I am walking better now than before surgery and after just two weeks of physical therapy I feel great!
David M.
on Feb 17th, 2015
Great Surgeon
Dr. Grimes has done wonders with my knee where other surgery done on it didn't turn out. He gives you honest answers and will answer your questions. He gives good follow-ups and you feel comfortable with him. I will be going in for shoulder surgery with him and I have full confidence it will turn out a beautiful surgery. I would give him a gold 5 star rating.
Dr. Grimes performed arthroscopic surgery on my right knee due to a torn meniscus. After only two weeks of physical therapy I feel great. I have no pain and am not limited in flexibility. Wow!! Thank you Dr. Grimes.
joan
on Dec 11th, 2013
Single Portal Arthroscopy of Knee (SPA)
I have had arthritis in my knee for years. I was putting up with the pain. I saw Dr. Grimes and he said my arthritis was not too bad, but found out I had a torn cartilage. He recommended I have an arthroscopic 'tune-up' haha. I was really glad I did. My knee pain is gone and it was all done through one quarter inch incision!
9/1/2015
Shoulder Arthroscopy
Treated Shoulder, impingement and frozen shoulder. Started physical therapy the following morning. Painful at first, kept going and followed up at home at least 2 hours per day. After only 8 weeks I had almost full range of motion and on my way to a full recovery. Very positive experience.
July 31, 2015
An excellent job!
Dr. Grimes performed impingement surgery on both my shoulders. I am pain free now and have complete range of motion. An excellent job!!
Dawn on Mar 11th, 2015
Dr Grimes repaired my severely torn rotator cuff. He was very meticulous in his pre-op care, detailed in his after care instructions and follow up visit. My scar was minimal despite all the work that was done. I would definitely recommend him for this type of surgery
denira english
on Feb 26th, 2015
Shoulder surgery
Dr. Grimes is an awesome surgeon! His staff is friendly and professional, very thorough. I am elated that I didn't have to wait months to get the surgery over with. I recovered extremely fast and believe that is due to Dr. Grimes. I would and will definitely go back to Dr. Grimes if needed and would also recommend him and his office to my family and friends.
Lynda Jones
on Apr 29th, 2014
Great Doctor
Dr. Grimes provided excellent service from diagnosis to procedure to follow-up. He is meticulous, thorough and communicates very well. He takes the time to explain in detail each aspect of your treatment and shows you radiology and scope pictures during his explanations. I highly recommend him for anyone needed help with a bad shoulder!
Tim T.
on Jul 2nd, 2013
Shoulder surgery results
Dr. James Grimes is a surgical genius. My left shoulder joint is an arthroscopic surgery masterpiece. Dr. Grimes diagnosed my problems perfectly with the use of radiographs and an MRI. The surgery results could not be better. After suffering for over three years, I now have no pain, and I have terrific joint flexibility. Thank you Dr. Grimes.
David Markiewitz
on May 9th, 2013
Shoulder pain
I had both shoulder worked on by Dr Grimes and am now pain free. Excellent staff who completed all my insurance paperwork too. Easy to work with and communicate my concerns.
Jason
on Dec 31st, 2013
Dr. Grimes is an excellent physician who really cares about his patients. I have had numerous orthopedic surgeries in the past with other doctors and Dr. Grimes has provided a far superior outcome than any of them. He is very thorough, straightforward, knowledgeable and caring. I have had two shoulder surgeries performed by him and I have been extremely satisfied with the outcome. I highly recommend Dr. Grimes.
Steve Rhodes
Amazing Doctor
Dr. Grimes has performed 4 surgeries on me, and each time I go in to see him, he is so caring and considerate. He is very knowledgeable on the best ways to help me, and I always feel like I'm getting the best care. I highly recommend Dr. Grimes to anyone needing orthopedic surgery.
Danny Fierro
on Jul 15th, 2015
Endoscopic Carpal Tunnel Release
"It worked like magic."
I had microscopic carpal tunnel releases on both hands the same day six weeks ago. It worked like magic. The pain and numbness that was waking me up at night vanished immediately. I no longer have the shocking feeling in my hands. I'm very happy I had this surgery and would recommend it to anyone with carpal tunnel.
7/30/2015
"Best surgery I ever had."
I've had a number of different surgeries over the years. Dr. Grimes performed endoscopic carpal tunnel release on both of my hands in one operation. I was able to return to my desk job in 2 weeks and was back to doing everything in 2 months. This was the best surgery I ever had.
2/9/2015
"Like night and day."
I had a carpal tunnel release on my right hand done three years ago by another surgeon who made a large scar on my palm and wrist. My hand was very sore and it took over 6 months to recover. Dr. Grimes did a carpal tunnel release on my left hand through a tiny incision in my wrist crease. I was back to doing things in a month and have no scar on my palm and no soreness in my palm. Take it from someone who has had both kinds of carpal tunnel surgery–the microscopic procedure was way better.
11/23/2014